St John Brigade (Boys & Girls)
St. John Brigade (SJB)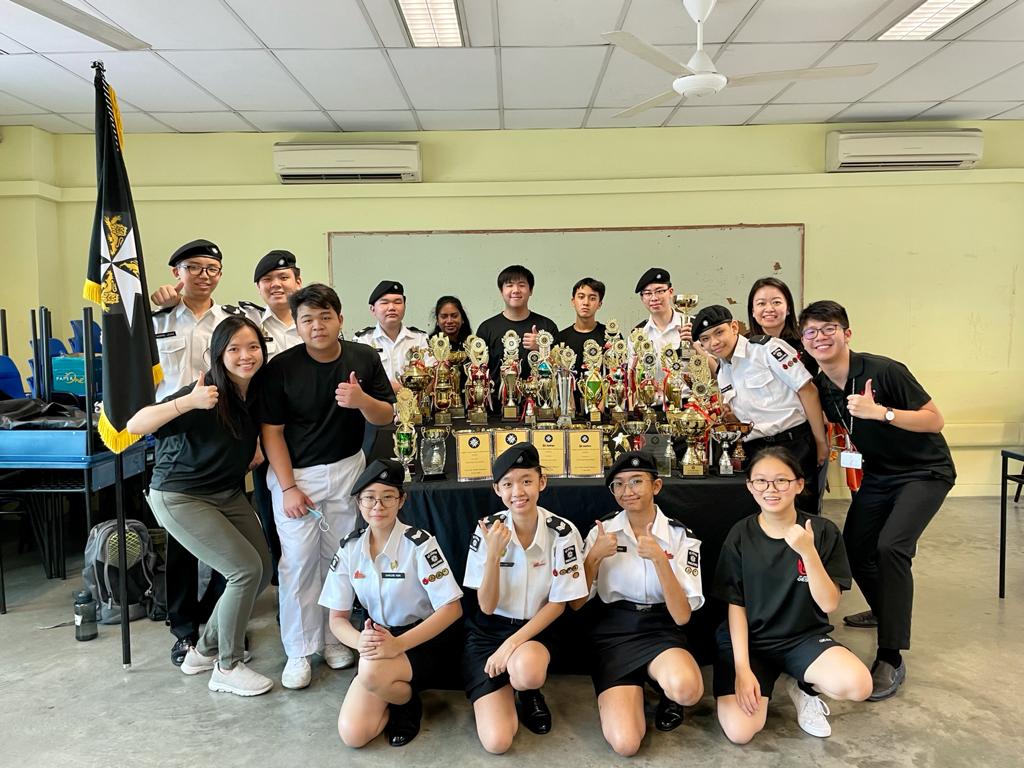 Teacher-in-charge:
Coach/Instructor/
Volunteer:
Student Leader:
Training Information:
Ms Chan Yi Tsun
Ms Geetha Muthu
Ms Yvonne Kok
Mr Calvin Tan
CSO Foo Lin Xuan

CSO Ayisath Farhana D/O Zahir Hussain

Corps Sergeant Major (CSM):
Goh Yi En, 3F

Deputy Corps Sergeant Major (DYCSM):
Kee Jing Sheng, 3F

Every Tuesday

3.00pm – 5.30pm

Every Friday
2.00pm to 5.30pm

Selected Saturday*

Venue :Arena or SJB HQ*
About Us
Mottos:
Pro Fide – For the Faith.
Pro Utilitate Hominum – In the Service of Humanity.
Since 1964, Gan Eng Seng School Corps has been striving forward, for the faith and in the service of humanity. We seek to equip our cadets with training in a range of first aid skills and knowledge, as well as character and leadership development. With a holistic curriculum, our cadets will learn and grow to be confident citizens who are able to contribute meaningfully to the school and community.
Our Activities
Skills & Knowledge

Basic First Aid
Standard First Aid
Home Nursing
Basic Cardiac Life Support
CPR-AED
Transport of Casualty
Triage
Foot Drill

Cadet Proficiency Badge Scheme (CPBS)

Accident Prevention
Anti-Drug Abuse Course
Archery
Artist
Civil Defence
Community Care
Community Song
Cycling
Environment Education
Handyman
Heritage Badge
Homecraft
Kindness Badge
Knowledge of the Order of St John
Map Reading
Shooting
Total Defence

Leadership

Basic Non-commissioned Officer (BNCO)
Advanced Non-commissioned Officer (ANCO)

Community Service

St John Flag Day
St John Walkathon
Hospital Attachment Programme
First aid support in school events
Public duty at external events

Other activities

National Camp
National Day Parade marching contingent
World Water Day
Our Key Achievements
Corps Achievement Award (CAA) Gold: 2004, 2005, 2006, 2007, 2008, 2010, 2011, 2012, 2013, 2014, 2015, 2016, 2017, 2018, 2019.

St John Flag Day 2019 Top 10 Corps

St John Walkathon 2019 Zone 10 Champion

St John Brigade Zone 10 Annual First Aid & Home Nursing Competition 2019
Best Team Leader: Selina Tan

St John Brigade Zone 10 Annual First Aid & Home Nursing Competition 2018
Nursing Cadet team: 1st Runner up:

Trenyce Tay
Leow Yi Ting
Su Jia Ying Joanne
Xu Huiru
Flora Yeo Jing Rui
Other Links
St John Singapore: http://www.stjohn.org.sg
GESS SJB Instagram: https://www.instagram.com/theofficialgesssjb/
CCA Achievements for 2020 to 2021
2020
2021
Chief Commissioner's Badge Recipients

1. Lin Xinxin 4C
2. Betty Ho 4D
3. Javier Loh Jun Wei 4D
4. Gan William Hoa Minh 4F
5. Isaac Chan Keat Wai 4F
6. Chan Cheng Yun 4G
7. Selina Tan Hui En 4H

Chief Commissioner's Badge Recipients

1. Braden Ng Ding Xuan 4D
2. Hong Zilin Charlene 4H
3. John Paul Singarayar 4D
4. Jovan Tan Fang Jun 4F
5. Lee Si Liem (Anjo) 4B
6. Leung Nang Hoi Gabriel 4H
7. Low Vivian 4G
8. Low Zhi Yang 4C
9. Nurhaslinda Binte Hasiran 4A
10. Kathiresan Vidula 4E