National Cadet Corps (Land)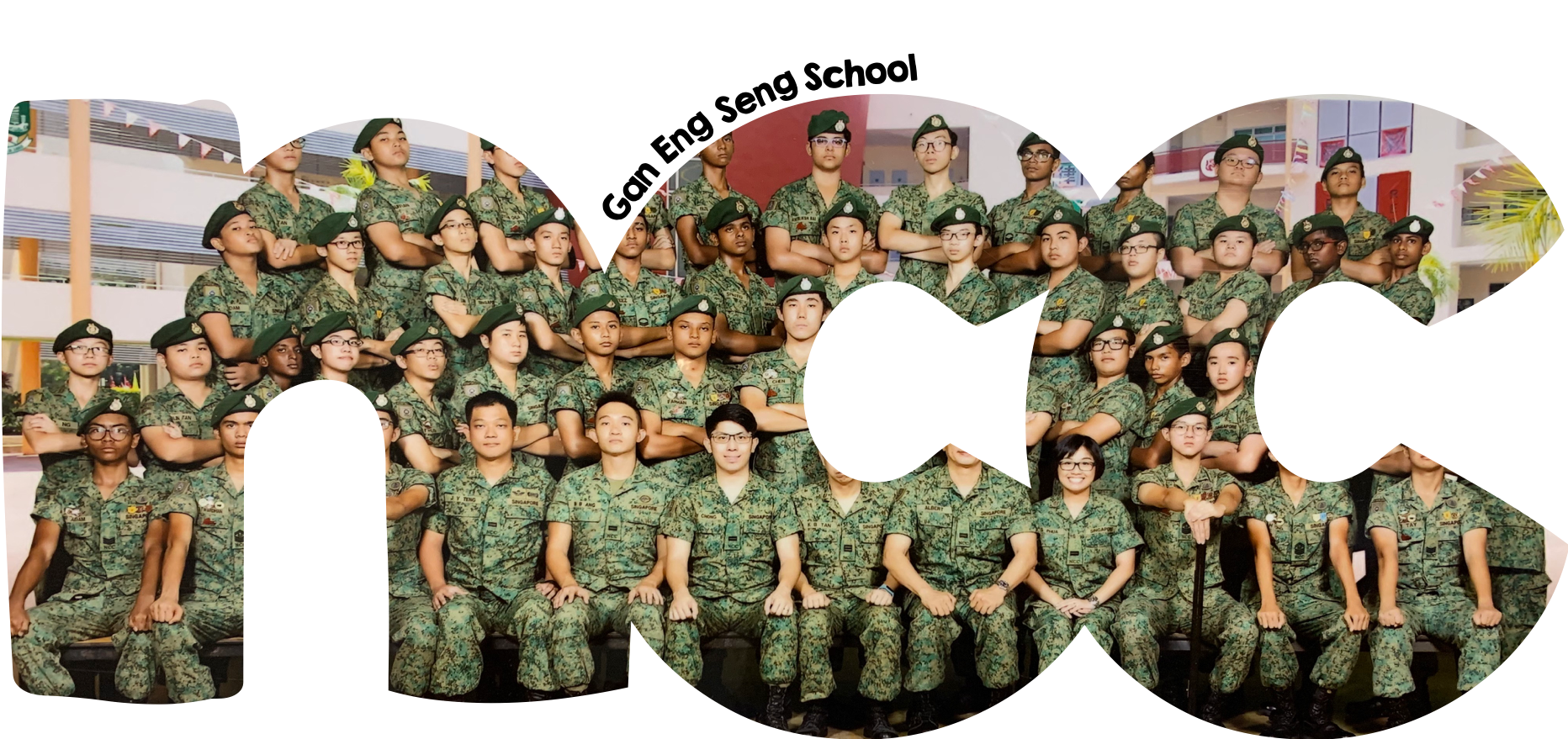 Teachers-in-charge:
Volunteer:
Student Leader:
Training Information:
CPT (NCC) Lin-Phua Hui Shi (1st Teacher I/C)

CPT Ang Boon Bin
CPT (NCC) Tan Kian Beng
Mr. Subramanian S/O Annamalai
Mr. Rodney Sea
Mr. Marcus Quek

C/2LT Suffian Bin Abdullah

C/Offr Nur Ilhan Shafeez Bin Karim

MSG (NCC) Ajmal Peer Mohideen Ajwad Habib Ahmed (3F 2021, Unit Sergeant Major)

MSG (NCC) Aneesh Rai (3B 2021, Assistant Sergeant Major)

SSG (NCC) Liew Cheng En (3H 2021, Company Admin Sergeant)

SSG (NCC) Ong Hong Bin Ryan (3G 2021, Platoon Sergeant)

SSG (NCC) Mohamad Hazrul Bin Mohamad Hasli (3D 2021, Platoon Sergeant)

SSG (NCC) Muhammed Rayhaan Bin Muhammed Thariq (3C 2021, Platoon Sergeant)

Every Tuesday
3.00pm – 5.30pm
Every Friday
2.00pm – 5.30pm

NCC
Venue: Arena/NCC Corridor/ Classrooms
About Us
Our Unit:
Gan Eng Seng School National Cadet Corps (NCC) Land Unit nurtures responsible, resilient and resourceful cadets to become successful citizens. We are thinking and learning team driven by our NCC Core Values: Loyalty to Nation, Uprightness, Leadership, Discipline, Commitment and Responsibility, Care for Fellow Cadets and Adventurous Spirit. GESS NCC develops resourceful, responsible, resilient, loyal leaders and team players through fun and challenging military related activities.
GESS NCC has been the most consistent UG in the school since its inception in 1957. The unit has won numerous awards over the years. These include winning the Overall Best Unit in 2000 and 2002 in the NCC Annual Best Unit Competition (BUC). We have also been awarded the Gold Unit Award every year since it began in 1993. Our loyal and dedicated teacher- and honorary officers, as well as NCOs, take it upon themselves to groom each cadet into a thinking soldier and a distinguished leader.
GESS NCC also teaches you inter-personal skills and enables you to make friends who are true and sincere.
Our Activities
GESS NCC aims to develop and nurture inspiring and committed leaders through a series of fun, adventurous and military-related activities. The NCC syllabus exposes our cadets to activities like basic foot and arms drills, orienteering, individual field craft, technical handling and live range shooting. Their competency in these skills enables them to problem-solve and appreciate the importance of our nation's military defence. The strong camaraderie forged with their platoon mates during the NCC trainings will also enrich the lives of our cadets.
Furthermore, our cadets are given the opportunity to participate in major events such as the National Day Parade and Observance Ceremonies. As part of providing a wider scope of experiential training and to foster international friendship and interaction, cadets are also given the opportunity to go on overseas exchange programmes with the NCC in India, USA, the UK and China.
Our Key Achievements
Gold/Distinction Unit: 1993, 1994, 1995, 1996, 1997, 1998, 1999, 2000, 2001, 2002, 2003, 2004, 2005, 2006, 2007, 2008, 2009, 2010, 2011, 2012, 2013, 2014, 2015, 2016, 2017, 2018, 2019
HQ NCC Outstanding Cadet Awards:
| | |
| --- | --- |
| 2019 | Brandon Lee Wei Quan |
| 2020 | Suffian Bin Abdullah |
| 2021 | Lok Yan Rui, Sebestian |
Other Links
If you're interested to find out more about NCC, do check out the official NCC Facebook Group and our GESS NCC's Instagram.
NCC Facebook Group – https://www.facebook.com/sgncc.hq/
GESS NCC Instagram –https://www.instagram.com/theofficialgessncc/
| | | |
| --- | --- | --- |
| CCA Achievements for 2020 to 2021 | 2020 | 2021 |