Infocomm Club (Boys & Girls)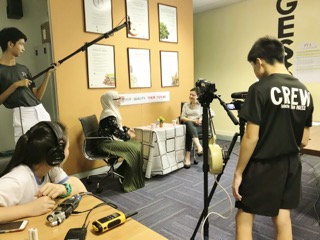 Teacher-in-charge:
Coach / Instructor / Volunteer:
Student Leader:
Training Information:
Mr Jeffrey Sui
(1st Teacher I/C)
Mr Niu Zi Bin
President:

Yu Xiao Qian 3F

Vice-President: Velden Tham 3H

Vice-President: Lewis Tan 3H

Chief Sound Engineer: Lee Chin Yi 3F

Chief Photographer: Bryan Luke Jing Sen 3E

Chief Videographer: Max Leong 3E

Upper Sec Sub-com:

Sound Specialist: Marcus Chua 3B

Sound Specialist: Gherciu Stefan Adrian 3D

Photography Specialist: Law Qiao Yi 3D

Graphics Specialist: Cadence Foong 3D

Tuesday
3.00pm-5.30pm

Friday
2.00pm-5.30pm

Note :
Members shall perform duties during school events apart from their weekly training. This involves pre and post event duties.
Our Unit
The Infocomm Club @ GESS aims to deepen students' passion for by equipping them with ICT knowledge and skills, and to develop them to be responsible and respectful members who are confident and competent in handling challenging tasks to ensure smooth running of school events.
Strong friendships and a deep sense of camaraderie among members are forged in the collaborative process of serving the school together.
Our Activities:
The three areas of focus for the Infocomm Club are: Live Sound Reinforcement, Event Photography and Video Production.
Members have attended courses on handling PA equipment, using DSLR, photo editing and videography. They are also actively involved in providing audio-visual, photography and video support at various school events, assemblies and ceremonies.