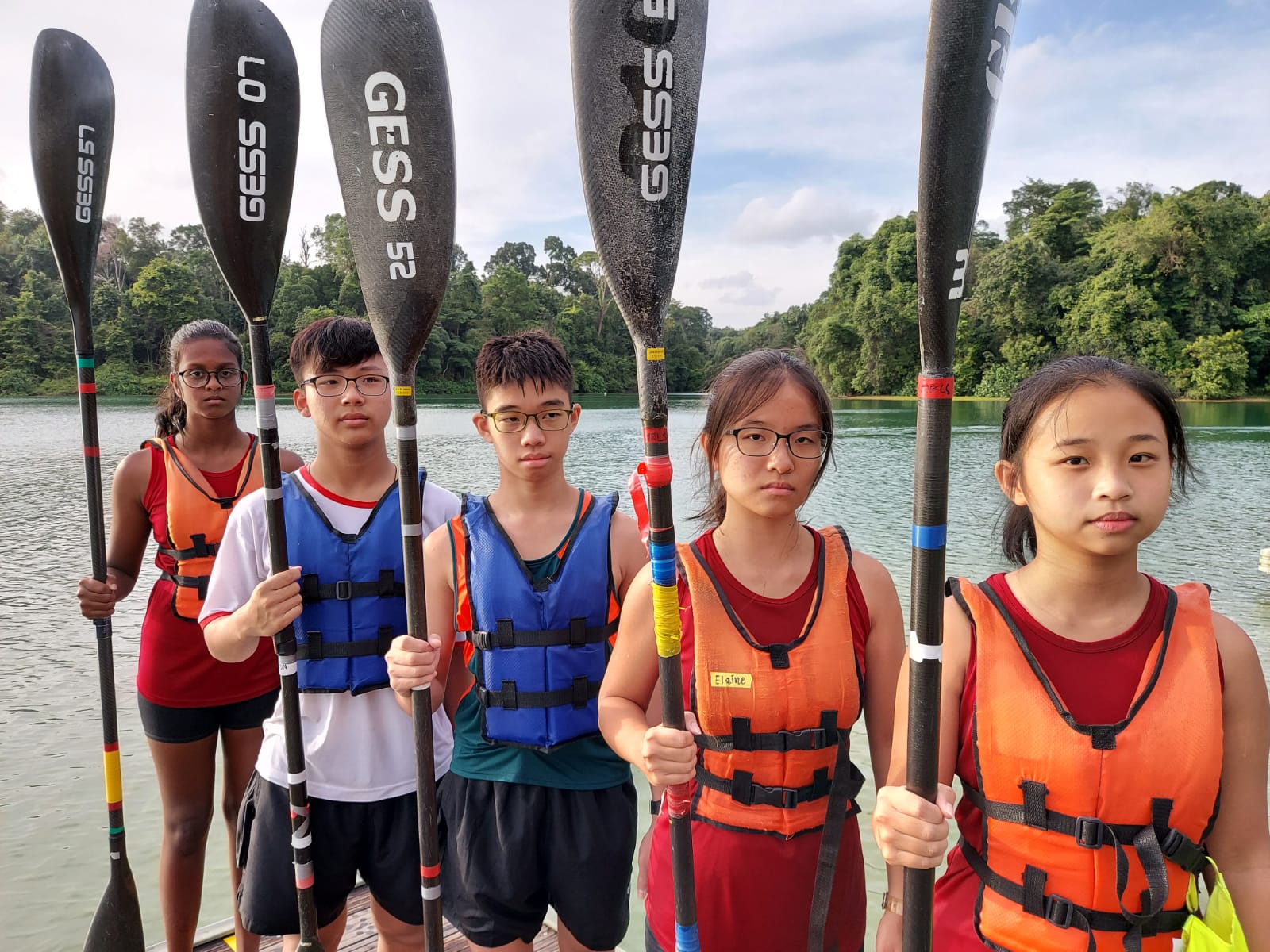 Teacher-in-charge:
Coach/Instructor/Volunteer:
Student Leader:
Training Information:

Ms. Charmaine Chu
(1st IC)

Mr. Evan Ling
(2nd IC)

Mr. Johann Lim

Mdm Marhaidah

Mr. Muhammad Faris

Mr. Muhammad Sultan

Ms Ong Kai Wen

Mr Alvin Siew

Male Captain:

Tan Hong Rui, Avel

Female Captain:

Alyssa Wong See Yan

Male Vice Captain:

Guan Jia Jin Johnson

Female Vice Captain:

Goh Xing Hui

Every Tuesday

Time: 3.00pm to 6.00pm

Every Friday

Time: 2.30pm to 6.00pm

Venues:

Water trainings are held at MacRitchie Reservoir

Land trainings are held in the school premises

Subject to changes based on Safe Management Measures by the Singapore Canoe Federation and Gan Eng Seng School
About Us
The GESS Canoeing team was established in 1997 to provide students with an opportunity to experience canoeing and dragon-boating at a leisure and competitive level. Since its establishment, the team has participated in many competitions and in particular, the annual National Inter-Schools Canoeing Championships. Today the team has over 80 male and female members from the four divisions who have developed significantly in terms of both physical and mental strength.
Our Activities
On top of the weekly water trainings to build up water confidence and individual skills in preparation for competitions, all members of the GESS Canoeing team will also need to undergo the One Star Kayaking Course certified by the Singapore Canoe Federation, to equip themselves with the necessary basic knowledge and ability to handle the sport. A training camp is also conducted in Semester One to foster leadership qualities, team bonding and discipline among the team members.
Our Key Achievements
Over the years, the GESS Canoe Sprint Team has achieved numerous awards and accolades.
2021
Singapore Kids Kayaking Championships 2021
U14 JK1 2000 m 1st Position
LIM YU LING (2-3)
No National School Canoe Championship 2021 due to Covid
2020
No National School Canoe Championship 2020 due to Covid
2019
Singapore Canoe Marathon 2019
7th position CARMEN LAI YUE YUN (4B)
National Junior Canoe Championships 2019
B Division K1 1000 m 3rd Position
CARMEN LAI YUE YUN (4B)
B Division K4 500 m 1st Position
GENESIS TAN NING (4C2)
BERNICE LIAN JIA XIN (4D)
ANG SHYAN (4E)
CHAN JIE MIN, GERMAINE (4G)
National School Canoe Championship 2019
C Division K4 500 m 4th Position
DALILAH BINTE MUHAMMED YUSOFF (2B)
CHUA RUI SHAN (2D)
LIM SONG-YU, SONJA (2D)
NELLY QISTINA BINTE MOHAMED NASSIER (2F)
B Division K4 1000 m 2nd Position
GENESIS TAN NING (4C2)
BERNICE LIAN JIA XIN (4D)
ANG SHYAN (4E)
CHAN JIE MIN, GERMAINE (4G)
B Division K4 500 m 2nd Position
GENESIS TAN NING (4C2)
BERNICE LIAN JIA XIN (4D)
ANG SHYAN (4E)
CHAN JIE MIN, GERMAINE (4G)
B Division K2 500 m 4th Position
SU MYAT MON (4D)
TAY HUI LING (5B)
B Division K1 1000 m 3rd Position
CARMEN LAI YUE YUN (4B)
B Division JK1 500 m 3rd Position
CARMEN LAI YUE YUN (4B)
B Division K4 1000 m 4th Position
LIM YU-XUAN, EZRA (3F)
BAI JIYONG (4D)
LIM JING KAI (4E)
HO ZONG DA DELTON (5A)
Other Links