National Police Cadet Corps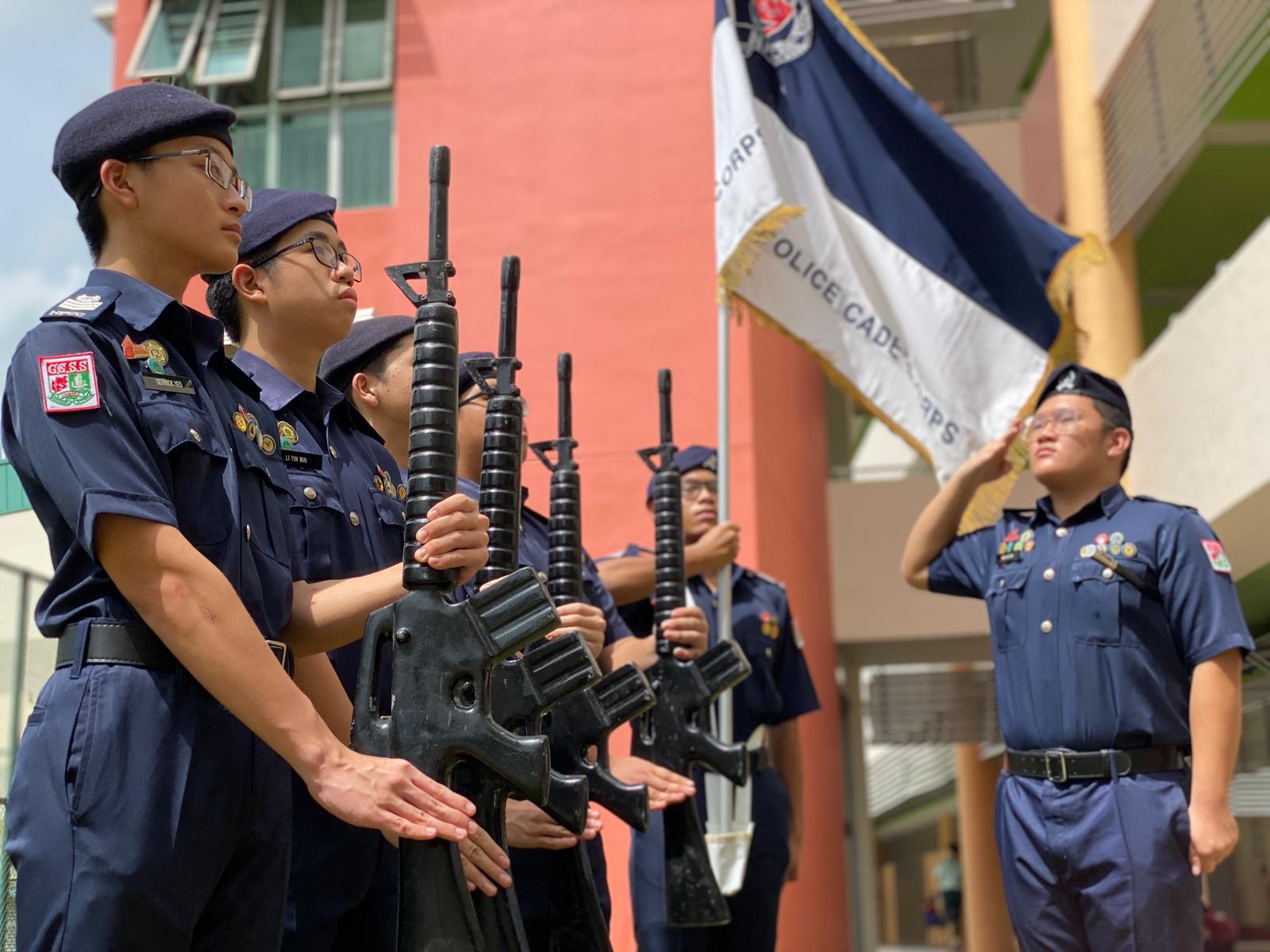 Teacher-in-charge:
Coach/Instructor/Volunteer:
Student Leader:
Training Information:
ASP Ngoh Cher Tian Jenny
ASP Tay Yian Ling
INSP Emerson Foo Meng Juan
INSP Kelvin Kwok Tzih-Yeung
Mdm Ho Hsion
HO Ronald Wee
HO Shoorya Prakash
SCI Lock Chan Hong
SCI Bryan Chai
SCI Clemen Kok
CI Dave Ng Si Jie
CI Jared Xin Ern Terredano
CI Shahul Hameed Ashik Ahmad
CI Au Yong Cheng Jun
CI Tan Jun Ming
CI Sam Jun En
SSgt

Tan Javier
SSgt

Davis Zhang Wei
SSgt

Akilan Murugan
Every Tuesday
3.00pm to 5.30pm
Every Friday
2.00pm to 5.30pm
Venue : Arena/Classroom
About Us
GESS NPCC Unit was established in 1969. Our objectives are to complement the cadets academic education by providing the cadets with healthy group interaction and activities to develop their mental alertness, physical bearing, fitness, discipline and a more rounded personality. At the end of 4/5 years of education, we aim to develop in the cadets the qualities of leadership, self-reliance, resilience, public spiritedness, sense of responsibility and good character.
Our mission is to develop our members to be active and community leaders, by working in partnership with the Singapore Police Force to fight crime and keep Singapore safe.
Our vision is to become the best youth organisation in Singapore, one that actively helps to make Singapore the safest place in the world
Our Activities
Foot drills
Campcraft
Classification Shoot
Crime Scene Investigation
Anti-drug Abuse Training
Community Safety & Security Programme
Police Youth Ambassador Programme
Adventure Training Camp
NPCC Annual Parade
National Day Parade
Our Key Achievements
Unit Overall Proficiency Awards (UOPA) GOLD: 1989, 1991, 2002, 2003, 2005, 2008, 2012, 2014, 2015, 2016, 2017, 2018, 2019, 2020, 2021.
2021
SPF NPCC Badge Award
SI Sam Jun En
SSgt Darren Low Jit Hoe
Home Team Corps Promotion and Service Awards 2020/2021
Promotion to Assistant Superintendent of Police (NPCC)
Miss Ngoh Cher Tian Jenny (Teacher Officer)
NPCC Long Service Medal – 1st Clasp (15 Years)
Miss Tay Yian Ling (Teacher Officer)
NPCC Service Award (5 Years)
Mr Kwok Tzih-Yeung Kelvin (Teacher Officer)
Mr Wee Ren Chai Ronald (Hononary Officer)
2020
SPF NPCC Badge Award
SI Au Yong Cheng Jun
SI Tan Jun Ming
SSgt Lim Wei Zhi Edwyn
2019
National Youth Achievement Award (GOLD):
CI Clemen Kok Yu Shan
SPF NPCC Badge Award
SI Joshua Wong Zhuo Yi
SI Kum You Quan Eugene
Inter Unit .22 Revolver Shooting Competition (National):
4th Placing SSgt Jared Xin Ern Terredano
Inter Unit Drill Competition (National):
Top 20
NPCC Area 14 Games Day:
Overall Champion
Promotion to Senior Cadet Inspector
Mr Clemen Kok Yu Shan
Other Links