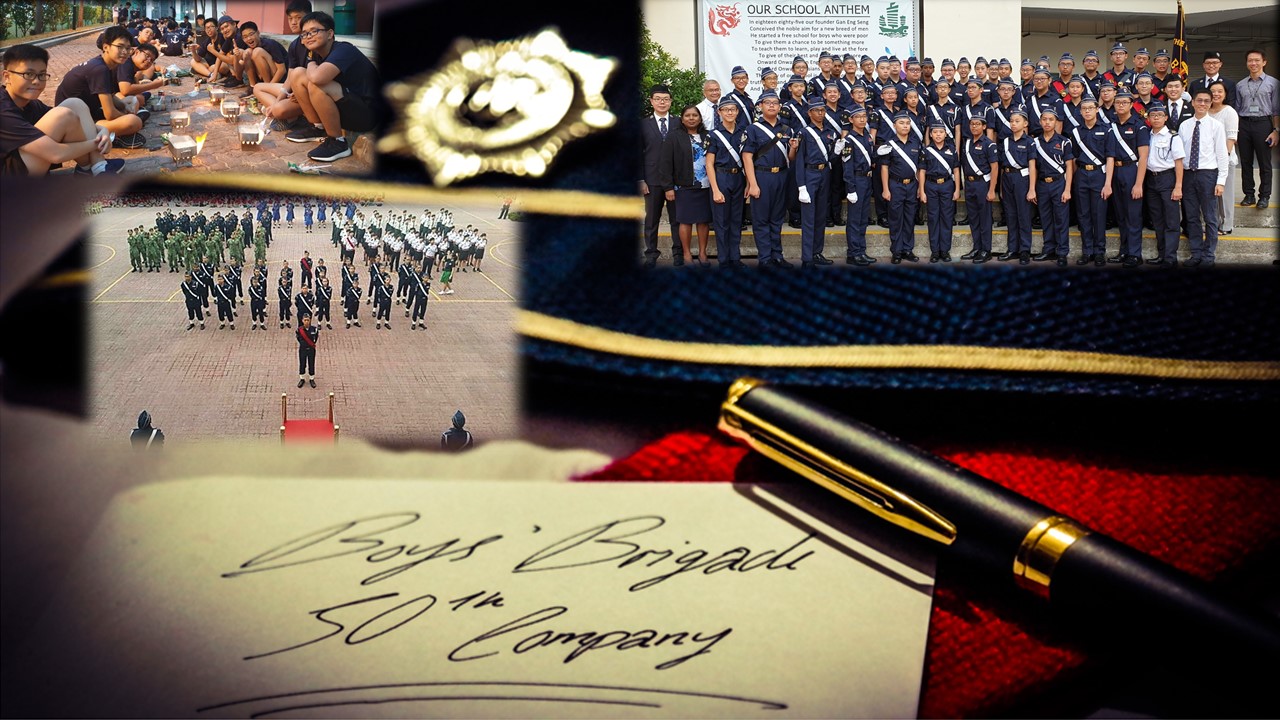 Teacher-in-charge:
Coach/Instructor/Volunteer:
Student Leader:
Training Information:
Mr. Lim Yu Tian Keith (1st

Teacher IC)
Mr. Tan Kay Yan Kayne
Mr. Tan Yong Huat
Ms. Sandra Wee Pey Woon
Mr. Joshua Loke (Captain, VAL)
Mr. Chan Boon Hau (Adult Volunteer, VAL)
Mr. Boey Jing Rong Aidan (Primer)
Mr. Poh Hian Yik Conrad (Primer)
Mr Ng Si Bin (Primer)
James Tan Zi Long (CSM)
Muhammad Fazal Siddiqui (Dy-CSM Operations)
Yap Jun Hui Justin (Dy-CSM Welfare)
Ryan Chu Guo Jin (Dy-CSM Admin)
Lee Jen Lun (Dy-CSM Support)
Caleb En Jie Keasberry (Platoon Leader)
Mohammad Noor Adam Bin Mohammad Zahreen (Platoon Leader)
Every Tuesday
(3.00pm to 5.30pm)
Every Friday
(2.00pm to 5.30pm)
Venue: Classrooms 2-1, 2-2, 2-3 & Arena
Our Unit:
Company's mission:
To prepare all boys for the future through a fun and holistic curriculum, which allow boys to foster meaningful friendship and empowers boys to be leaders of today.
Company's curricular approaches:
1. Fun, Friends, Leaders
2. Boys' Brigade for all
Introduction:
The unit's aim is to build up boys of character and integrity who are armed with life skills and values. The commitment of each teacher and officer who comes to serve in the Company is disputed, as each gives of his best. Little would be achieved without the students and in this regard, our cadets demonstrate steadfastness. They possess a spirit of camaraderie, one that is committed to building up the Company whatever the circumstances.
Our activities:
Members of the Boys' Brigade participate in a diverse and challenging range of activities such as kayaking, rock climbing, archery, abseiling, drills, drone flying, musketry, camps, hiking, leadership camps, leadership courses and financial literacy courses.
Our Achievements (as of Aug 2021)
2021
Founder's Award 2021

Chan Yu Feng Howell (4D)
Ganesh S (4D)
Han Juai Seu (4D)
James Lim Cheng En (4D)
Kendrick Yeo Dae Juan (4D)
Kenneth Hubert Suhardjo (4D)
Koh Ji Yang Brandon (4D)
Cheang Ci Julian (4E)
Ng Jun Han (4G)
D'othniel Kong Yih Huarng (4H)

President's Award (for Primers) – Hareesh S (4D, graduated in 2019)
National Day Parade (Virtual Boys' Brigade Contingent)

Mohammad Noor Adam Bin Mohammad Zahreen (3B)
Yap Jun Hui Justin (3B)
Yeo Dai Heng Lemuel (3B)
Caleb En Jie Keasberry (3D)
Thng De Ren (3D)
Chua Yun Cong Tristan (3E)
Ho Ji Xuan Isaac (3E)
James Tan Zi Long (3E)
Lee Jen Lun (3F)
Ryan Chu Guo Jin (3F)
Ansel Low Tze Chun (3G)
Muhammad Fazal Siddiqui (3G)
Sarveshvaran S/O Pandian (3H)

SP Chua Medal (a.k.a. Best Boy Award) 2021 – Ganesh S (4D)
2020
BB Week 2020 – Silver Honour Roll
Founder's Award 2020

Dennis Foo Yiwei (4H)
Boey Jing Rong Aidan (4C)

SP Chua Medal (a.k.a. Best Boy Award) 2020 – Dennis Foo Yiwei (4H)
J M Fraser Award for Excellence Honour Roll (Assessment Year 2019) – Unit Gold
2019
NDP BB Marching Contingent:

Joshua Pong (3A)
Kenneth Hubert Suhardjo (2F)
Koh Yi Yang Brandon (2F)
Ganesh S (2F)
Ng Jun Han (2F)
Kendrick Yeo Dae Juan (2F)
James Lim Cheng En (2G)

Founder's Award 2019 – De Souza Leslie Ethan (4D), Hareesh S (4D), Josiah Low (4E)
SP Chua Medal (a.k.a. Best Boy Award) 2019 – Hareesh S (4D)
BB Week 2019 – Bronze Honour Roll
BB Blaze 2019 – Gold Honour Roll; Winning Team:

Hareesh S (4D)
Aidan Boey Jing Rong (3C)
Ganesh S (2F)
Kendrick Yeo Dae Juan (2F)
Han Juai Seu (2G)

J M Fraser Award for Excellence Honour Roll (Assessment Year 2018) – Unit Gold
Other Link:
Find out more about us: https://bb50thcoygess.wixsite.com/site
Follow us on Instagram (bb50thcoygess): https://www.instagram.com/bb50thcoygess/
The Boys' Brigade Singapore: http://www.bb.org.sg/