Open House: Saturday, 19 Nov 2016, 9 am to 1 pm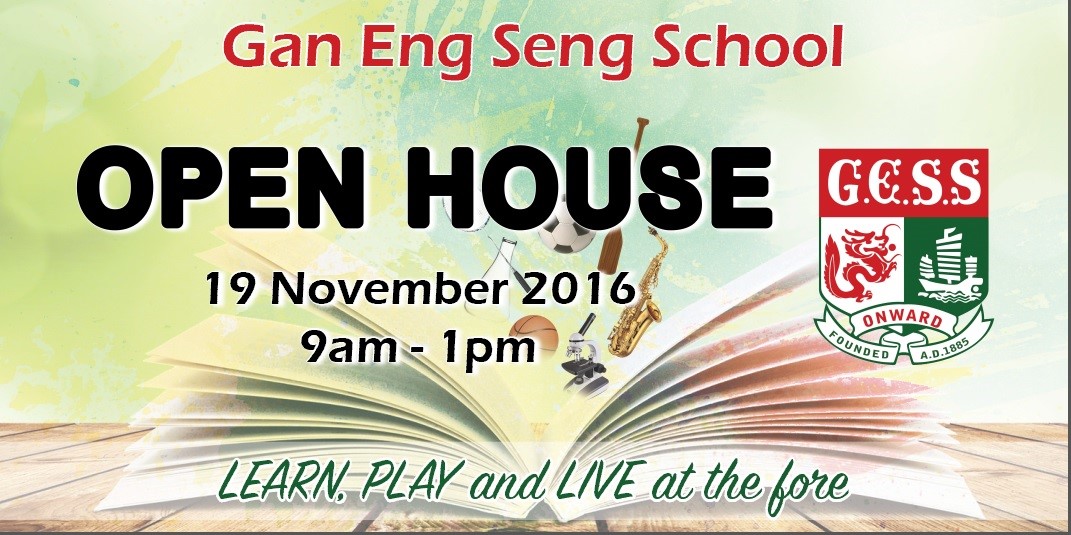 No.
Programmes
Time & Duration
Venue
1.
School Tour

3 Scheduled Tours
30 minutes each

Timing of tours:

1st tour: 0900 – 0930hrs

2nd tour :1030 -1100hrs

3rd tour: 1200 -1230hrs

School Hall, CCA Booths
2.
Curriculum Exhibition:

PLT Booths Showcase
Hands-on activities at the booths by various departments

On going 0900 -1300hrs

Before/after each Performance & School Leader's Address

School Hall
3.
Performances
1000hrs – Band

1130hrs Choir, Dance & Combine UG

School Hall
4.
School Leader's Address
1015hrs – 1030hrs

1145hrs – 1200hrs

School Hall
5.
CCA Showcase
On going 0900 -1300hrs
Arena
GESS Factor Showcase
Our subject booths will be set up in the Hall (level 2) for students and parents to find out more about the respective department's signature programme. Do interact with our teachers and students at their booths to find out more.
CCA Highlights
Uniformed Groups, Performing Arts, Clubs and Societies, and Sports CCAs will put up displays at, and around the Arena (level 1).
Guided Tours
Parents and pupils may sign up for a guided tour of our school led by our Student Leaders.
Parking Advisory
Due to the limited parking available in our school premises, those who are travelling by car are advised to use nearby public car parks. We seek your kind understanding should you encounter any traffic congestion on that day. Thank you.
We look forward in welcoming you to our 2016 GESS Open House!